Es el primer médico español distinguido por la Academia Americana de Oftalmología (AAO) por su dedicación y contribución a la salud visual
La re­vista bri­tá­nica 'The Ophthalmologist' también sitúa al catedrático en Oftalmología en el puesto 12 de los 100 más in­flu­yentes del mundo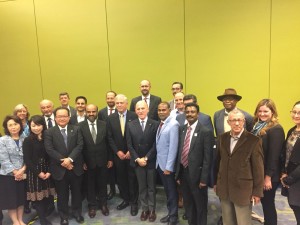 El doctor Jorge Alió suma un nuevo e importante hito a su trayectoria al ser distinguido con el 'Life Achievement Honor Award' de la Academia Americana de Oftalmología (AAO) por su brillante carrera profesional y aportaciones a la cirugía ocular
y a la solución de las enfermedades oculares, y sus aportaciones a las reuniones de esta institución. Es el primer médico español que recibe esta insignia, que "simboliza un compromiso perseverante con el avance y un impacto positivo en
la salud visual de los pacientes", según la entidad. El catedrático en Oftalmología de la Universidad Miguel Hernández (UMH) de Elche ya fue galardonado en 2015 con el 'ISRS Presidential Award' de la AAO.
Entre sus logros destacan los estudios con células madre para curar el queratocono avanzado; y el desarrollo exclusivo de una técnica pionera para cambiar el color de los ojos por razones cosméticas o terapéuticas, que fue publicado en 'Text and Atlas on Corneal Pigmentation', el primer libro en el mundo que habla de la queratopigmentación y que sirve como referencia a los oftalmólogos de todo el mundo. También es el creador del concepto de cirugía microincisional de cataratas (MICS, por sus siglas en inglés), siendo pionero en LIO multifocales, tóricas, fáquicas y acomodativas, y otros muchos aspectos de la cirugía refractiva con láser.
Asimismo, la re­vista bri­tá­nica 'The Ophthalmologist' también situó al director médico de la Clínica Vissum de Alicante, el instituto de investigación y el instituto ocular más grande de Europa, en el puesto 12 de los 100 mejores del mundo en su es­pe­cia­li­dad. Es, por tanto, el único of­tal­mó­logo es­pañol pre­sente en 'The Power List 2018', siendo la tercera vez que es nombrado en esta publicación, considerada una de las más prestigiosas del sector, cuyo ranking sele
cciona a las personas más influyentes de la oftalmología mundial incluyendo cirujanos, científicos o ingenieros biomédicos.
De este modo, el también académico de l
a Real Academia de Medicina de la Comunidad Valenciana (RAMCV) fue uno de los 22 profesionales premiados en el acto celebrado en el encuentro anual de la Academia Americana de Oftalmología en Chicago. El Dr. Alió se concierte así en el único médico español que ha recibido este galardón, tras recorrer un intenso y exigente proceso de selección.
Jorge Alió ha sido autor y coautor de más de 775 artículos científicos publicados en revistas internacionales, ha escrito 360 capítulos de libros como editor y coeditor, y ha recibido un total de 103 premios internacionales y nacionales. Entre ellos se encuentra el Visión España, que reconoció la labor del experto con la Presidencia de Honor de la asociación. Su constante estudio y dedicación también han sido factores clave para que los pacientes lo hayan situado entre los mejores médicos de España dentro del marco del directorio 'Top Doctors'.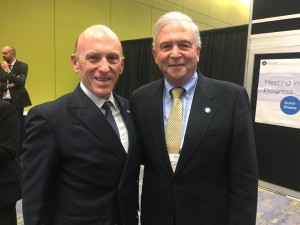 Hay que recordar que Alió también fue protagonista de la prestigiosa revista 'Ophthalmology Times Europe' gracias al artículo 'Terapia celular del estroma corneal: ¿enfoque real o ciencia ficción?' ('Cellular therapy of the corneal stroma: Real approach or science fiction?'). Una publicación que hace referencia al estudio que el doctor y sus colaboradores llevan a cabo con células madre mesenquimales extraoculares, que podrían ser una alternativa al trasplante de córnea clásico.
Además, es el director del primer curso online de cirugía refractiva de la UMH titulado 'Clinical  Methodology in Refractive, Cataract and Corneal Surgery' e impulsor de la Fundación Jorge Alió para la Prevención de la Ceguera con la que lleva a cabo acciones humanitarias como el proyecto 'Nouadhibou Visión' para la construcción del primer hospital oftalmológico en Mauritania; así como iniciativas culturales como el Certamen de Pintura 'Miradas', que tiene el objetivo de concienciar a la sociedad sobre la importancia de la salud visual y la prevención de la ceguera a través del arte.